SIGNING DAY: North Greenville football signs ten new faces
Tigerville, S.C. – North Greenville football announced its 2017-signing class this afternoon as 10 high school players signed a National Letter of Intent and will call Tigerville home for the next four years.
Kirk Rygol
6'0 – 175 LB – Quarterback
Nation Ford High School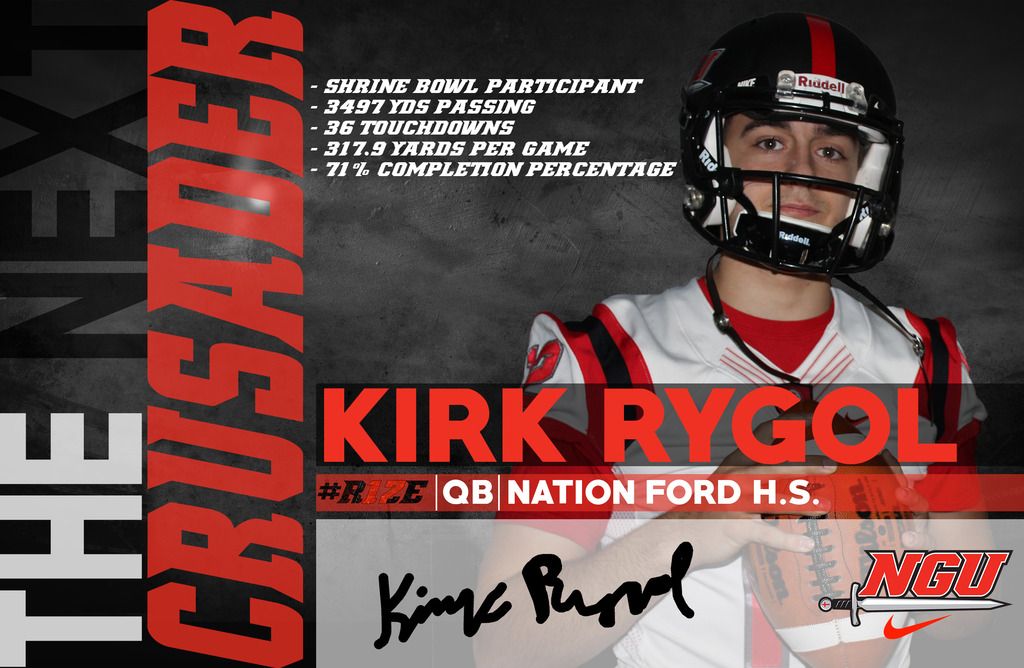 Kirk Rygol signed with the Crusaders on Wednesday after completing a solid senior season at Nation Ford High School. Rygol completed 71% (268 of 376) of his passes during the 2016-season for 3,500-yards. The signal caller threw for 317.9-yards per game this season and connected for 31 passing touchdowns. Rygol was a dual threat option for the Falcons, rushing for 489-yards and five touchdowns.
Kirk Rygol was a 2016 Shrine Bowl selection and led his team to a 7-4 record and an appearance in the 2016 South Carolina High School Football Playoffs.
Coach Pizzo on Rygol – "Kirk is an accurate passer that does a great job protecting the football. He has a great ability to escape and keep the play alive. He will fit perfectly into our offensive scheme and we are excited to have him in Tigerville."
Zeke Stringer
6-3 – 255 LB – Defensive Line
Broome High School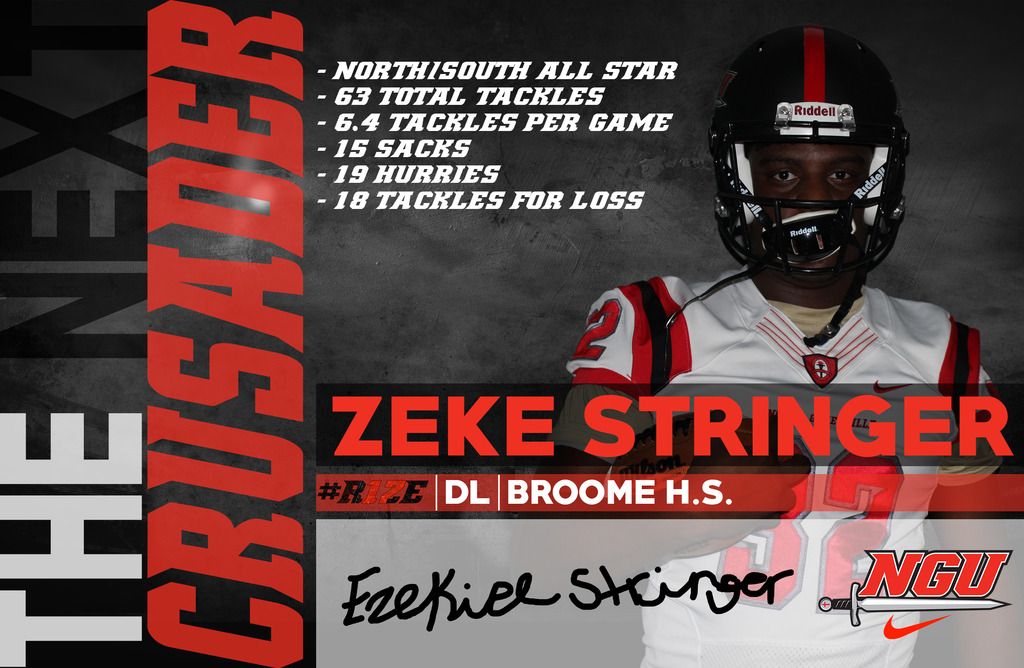 Zeke Stringer comes to North Greenville from Broome High School where he anchored the front line for the Centurions. In his senior season, Stringer racked up 63-tackles (6.4 tackles per game) and impressive 15-sacks. He also accounted for 19 quarterback hurries and 18 total tackles for a loss.
Stringer was also an all-star game selection as he was a 2016 North South participant.
Coach Novotasky on Stringer – "Zeke is an athletic, long physical guy that has a knack for getting after the quarterback. He has a great motor and an upside that we are very excited about. We are very excited to have Zeke in red and black."
Chase Brill
6-2 – 240 LB – Linebacker/Defensive Line
Myrtle Beach High School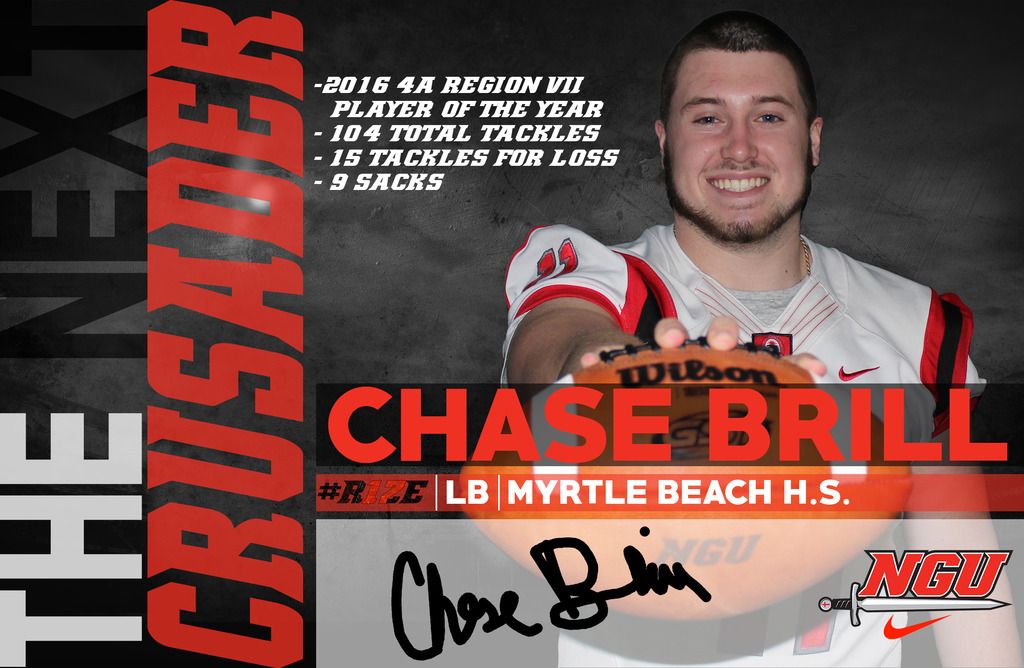 Chase Brill signed with the Crusaders out of Myrtle Beach High School as a guy who can play both linebacker and defensive line. Brill played both positions for the Seahawks, accumulating 104-tackles, including 15 tackles for a loss and 9 sacks. The decorated defender was named the 4-A Region VII Defensive Player of the Year and helped the Seahawks to a 9-2 record and an appearance in the 2016 state playoffs. Brill was a key component to Myrtle Beach's 2013 State Championship team and was a twice nominated team captain. Chase Brill was also a WPDE All-Zone Selection.
Coach Novotasky on Brill – "Chase is a physical, aggressive, hardworking player with a motor that never stops. He is very versatile in the sense that he can play multiple positions on our defense. His football I.Q. is also very high and we are excited to see him play in Tigerville."
Tyler Lilly
6-5 – 310 LB – Offensive Line
Cheraw High School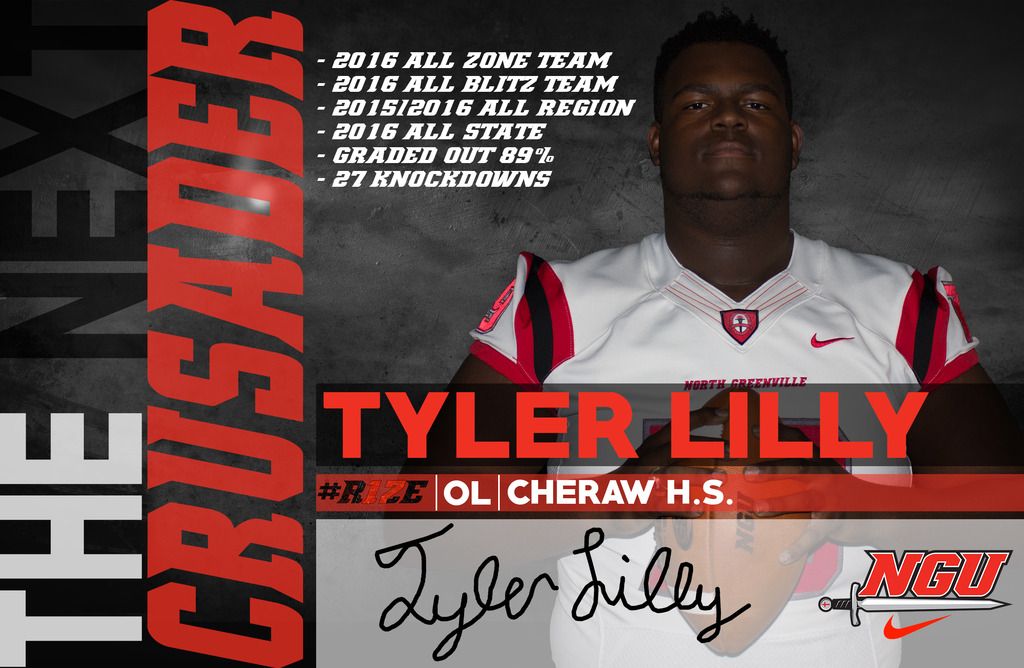 Tyler Lilly signed his National Letter of Intent to play with North Greenville out of Cheraw, South Carolina. Lilly will add depth to an already stellar front five for the Crusaders under Coach Nic Cardwell. Lilly turned in a solid senior campaign, grading out at 89-percent for the season with 27-knockdowns. He was a 2016 All-Zone selection and was also named to the 2016 All-Blitz Team. Lilly had two All-Region selections as a high schooler in 2015 and 2016.
He is the third All-Star game signee for the Crusaders, playing in the 2016 North South All-Star game. He helped lead the Braves to a 9-2 record and an appearance in the 2016 South Carolina High School Football Playoffs.
Coach Cardwell on Lilly – "Tyler has tremendous size to go with an incredible work ethic. He also strives to be great and he will fit in well with our guys. He is an athletic big man and has great feet and an incredible desire to finish the opponent in front of him."
Jonathon Holton
6-4 – 285 LB – Offensive Line
Dutch Fork High School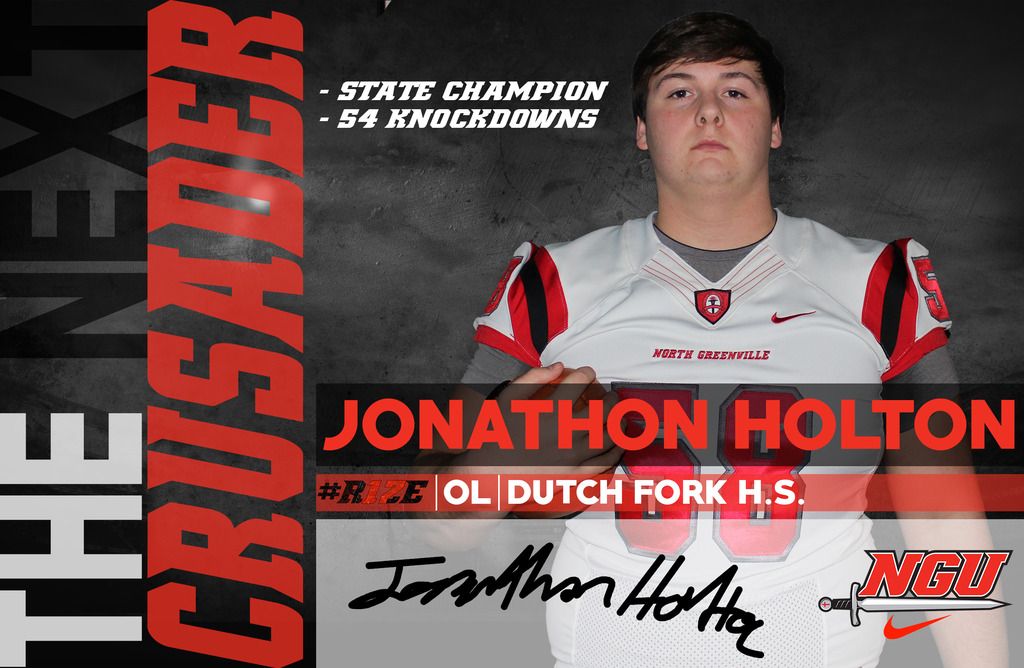 Jonathon Holton is another big get for Coach Cardwell and the North Greenville offensive line. Holton played in one of the state's best offenses in 2016, and registered 54-knockdowns, showing the ability to finish blocks. Holton finished his senior season in style as he helped lead the Silver Foxes to a perfect 15-0 record and a South Carolina State Championship.
Coach Cardwell on Holton – "Jonathon is an aggressive athlete that made his mark as being a very reliable interior lineman for a state championship team. Simply put, he is a winner and we want winners. He is a great finisher and plays the game with a nasty edge."
Hunter Medlin
6-3 – 285 LB – Offensive Line
Laurens High School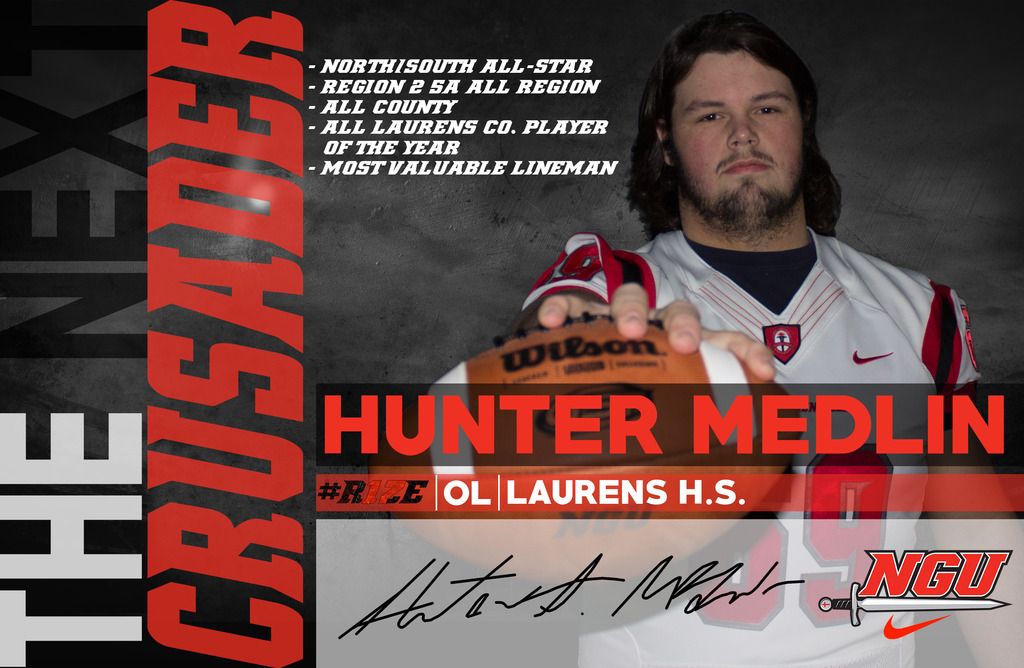 Hunter Medlin is the third offensive line signee for the Crusaders on National Signing Day. Medlin played for Laurens High School and helped lead his team to a 6-6 record and an appearance in the South Carolina State Playoffs. The interior lineman, who played center for the Raiders in his senior season, was selected to the Region II 5-A All-Region Team and was the Laurens County Player of the Year. Medlin was also named to the All-County team and was voted the team's "Most Valuable Lineman". Medlin adds more star power to NGU's 2017 class as he also played in the 2016 North South All-Star Game.
Coach Cardwell on Medlin – "Hunter is a hard-working young man with a sharp focus on being successful. As a two-way player for the Raiders, Hunter displayed the type of fight and resilience which is a key component of a great player. He has great hands and a strong punch and is also an intelligent football player. He plays with a chip on his shoulder and will fit in great with our team."
Tyrese Ford
6-0 – 185 LB – Defensive Back
T.L. Hanna High School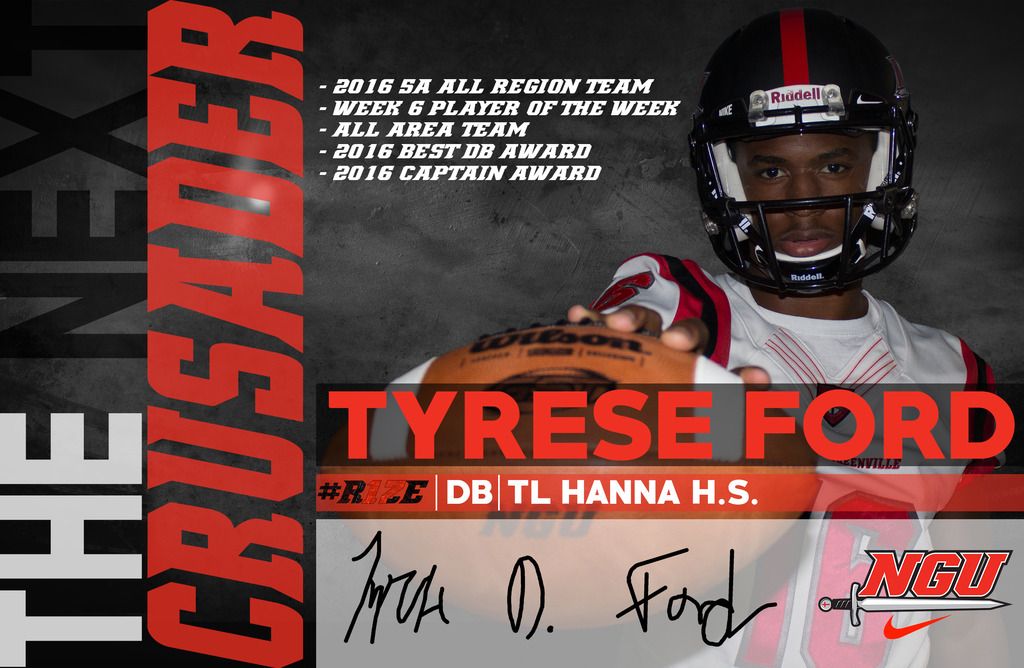 Tyrese Ford signed on Wednesday with the Crusaders after wrapping up his high school career with the Yellow Jackets. The pass defender finished the 2016 season with 30-tackles while breaking up 3 passes and 2 interceptions. Ford helped lead Hanna to a 6-5 record and a playoff appearance in 2016. Ford was a 5-A All-Region selection and was named the Anderson County week six Player of the Week. Ford was also an All-Area selection and was awarded the Best Defensive Back award for the Yellow Jacket. Ford was also named a team captain.
Coach Duncan on Ford – "Tyrese is a long, physical, and hard-nosed player that will fit well in our defensive scheme. He has a huge upside and will come to Tigerville and work hard. We are extremely excited he chose North Greenville."
Harold Hilton
5-9 – 165 LB – Athlete
South Aiken High School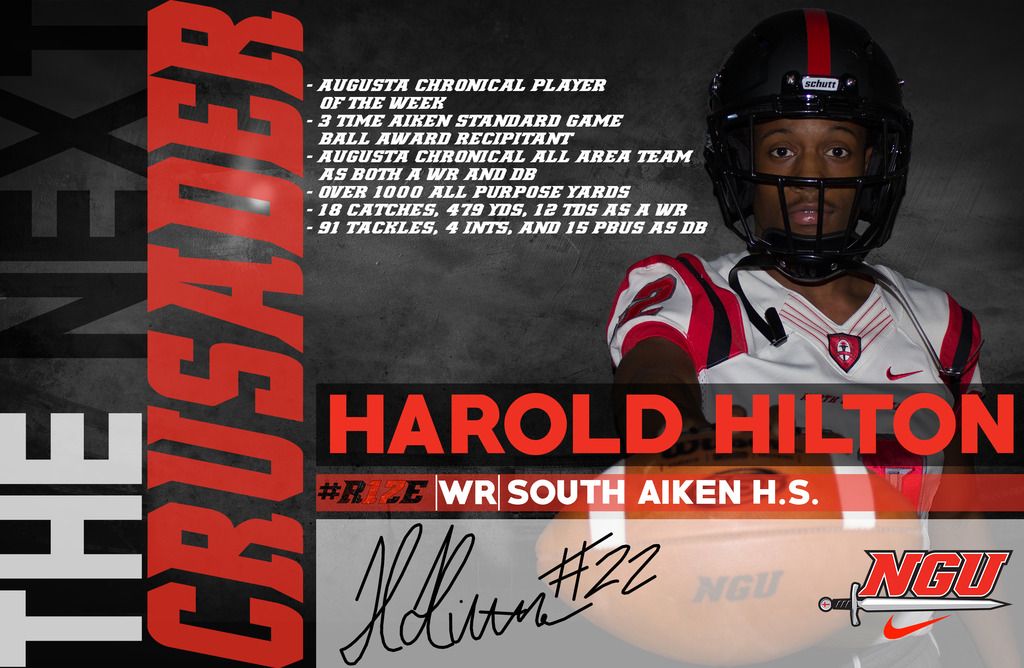 Harold Hilton signs his NLI with the Crusaders after turning in 1,000 all-purpose yards for the Thoroughbreds in his senior year. The speedster was a kick return specialist for South Aiken, but also saw time as a receiver, notching 18-catches for 479-yards and 12-touchdowns, as well as one of the team's best defenders, racking up 91-tackles with four interceptions, 15-breakups, and 2 fumble recoveries. He was awarded the Augusta Chronicle Player of the Week award for his efforts and was three-time recipient of the Aiken Standard "Game Ball Award". Hilton was an August Chronicle All-Area Team selection as a defensive back and an Aiken Standard All-Area selection for his work at the wide out spot.
Harold Hilton was selected to the South Carolina All-Area Team as a defensive back and is also a standout for the South Aiken track team. Hilton helped lead his team to a 13-2 record during his last season as well as an appearance in the fourth round of the state playoffs.
Coach Pizzo on Hilton – "Harold is a very versatile, explosive, and fast player that can do many different things. We feel very fortunate to get him and look forward to seeing how many different ways we can get the ball in his hands."
Celestin Haba
6-2 - 220 LB – Outside Linebacker
AC Flora high School
Celestin Haba will continue his football career at North Greenville after signing with the Crusaders out of AC Flora High School in Columbia, South Carolina. Haba helped lead the Falcons to a 7-6 record in his final season while finishing with 66-tackles, including 7 for a loss and 6 quarterback sacks. He also accounted for 12 quarterback hurries along with an interception and a fumble recovery. Haba and the Falcons advanced to the second round of the South Carolina state playoffs.
Coach Harris on Haba – "Celestine is a very versatile athlete with a combination of length, speed and strength. We feel like he can help add another dimension to our defense and we are very excited to get him on Campus."
Aaron Watson
5-10 – 170 LB – Defensive Back
Byrnes High School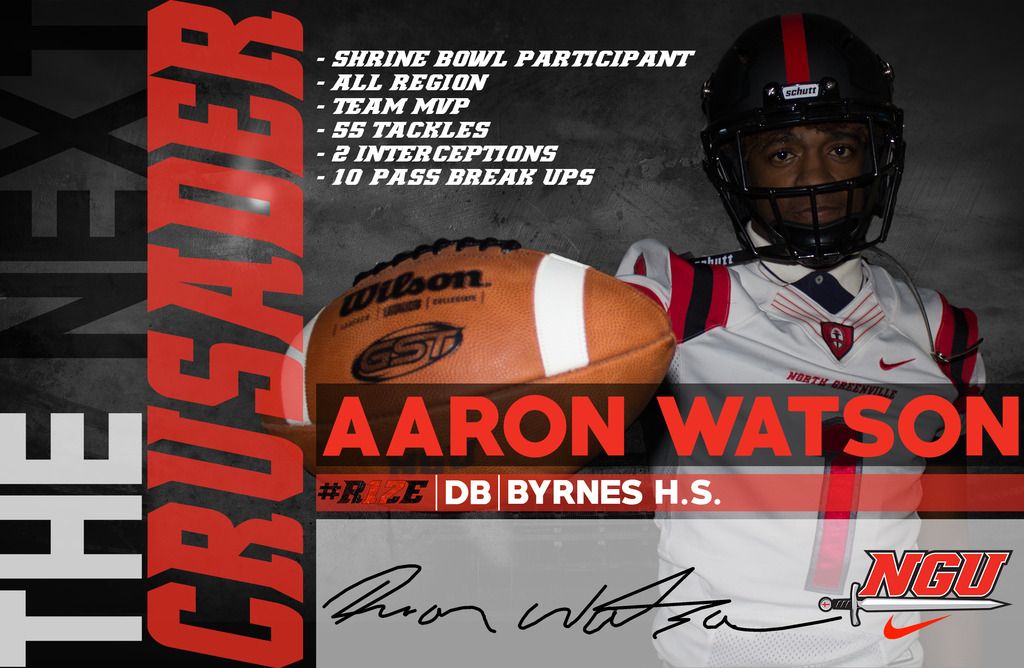 Watson is another local product, signing with North Greenville out of Byrnes High School. In his senior year, Watson accounted for 55-tackles along with 2 interceptions. He returned 1 of his interceptions for a touchdown and accounted for 10 pass breakups. Watson also doubled as one of the Rebels' kick returners.
Aaron Watson wrapped up his high school career with a 2016 Shrine Bowl selection and was named to the 5-A All-Region Team. He was named the team's Most Valuable Player.
Coach Duncan on Watson – "Aaron is a great athlete that can be a lockdown corner. He is also very physical in run support. He is going to be a great addition to our secondary."
Jarvion Miller
5-11 – 185 LB – Running Back
Wade Hampton High School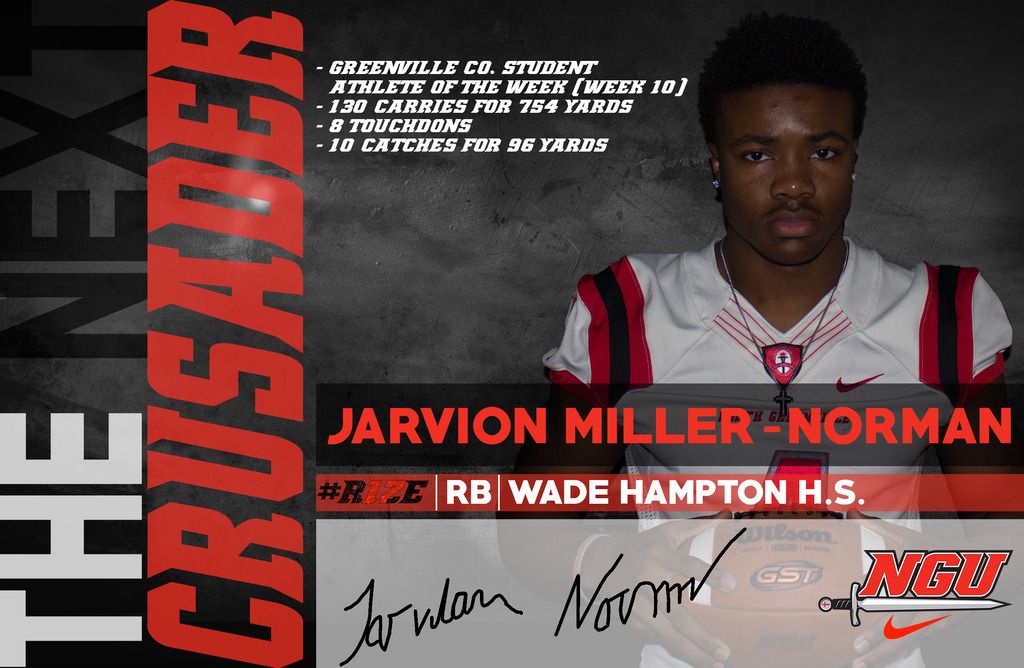 Jarvion Miller signed his letter of intent to play with North Greenville after playing his high school football just down the road for the Generals of Wade Hampton. Miller racked up 754-yards on 130-carries as a senior while finding the end zone 8 times. He was also a threat out of the backfield with 10-catches for 96-yards. Miller was awarded the Greenville County "Student Athlete of the Week Award" for his performance against Riverside in week-10.
Coach Ashmore on Miller – "Jarvion is a hard runner with a great work ethic. He is always trying to make himself a better player. He is a bigger guy that will fit well into our system. We are excited to sign him!"