Tigerville, South Carolina -- The National Letters of Intent are in, and the North Greenville University Football program is set to welcome 12 new faces, including four early enrollees who began attending North Greenville in January.
Trent Sorrells- Outside Linebacker - 6-1, 205 -Jefferson, Ga
.
Sorrells was named to the All-Northeast Georgia Team by the Gainesville Times and was an Athens Banner Herald All-Georgia honoree following his senior season at Jefferson High School.He finished his high school career with 247 total tackles, 29 tackles for loss, 11 sacks, six fumble recoveries, five interceptions, and scored two defensive touchdowns, and while compiling a 36-5 record as a starter for the Dragons. Sorrells will be joining current Crusader running back and former high school teammate Tristan Jackson, who had a solid season out the backfield as a freshman in 2014.
Coach Trey McCray on Trent - "Trent is an explosive player that can play a variety of positions. He comes from a well-known high school in the state of Georgia and we have high hopes that he will come in and contribute to the Crusader defense as we continue to improve from last season."

Matthew Thomas- Defensive Back - 6-0, 190 - Florence, SC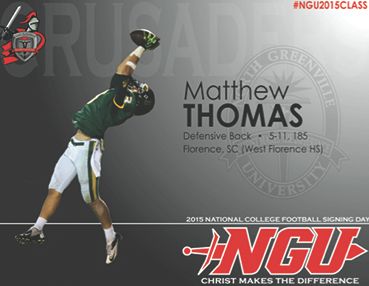 As a safety at West Florence High School, Thomas finished his senior season with 80 total tackles, three interceptions, three fumble recoveries, two forced fumbles, one sack and returned two interceptions for scores. He was named to the All Region 6-AAAA team for the Knights and will now be playing with his brother, current Crusader offensive lineman Michael Thomas.
Coach Brian Mance on Matthew - "Matthew is a very aggressive player that really understands the game of football. He works hard and is very athletic, something we are looking for on the defensive side of the ball. I feel Matthew is a great fit for what we are trying to do on defense and I am really excited to see him develop throughout the year."

Devon Turman - Tight End - 6-3, 250 - Elberton, Ga.
Turman played in 22 career games for Elbert County High School, totaling 17 receptions for 294 yards, averaging 17.3 yards per catch. As a junior, Turman helped lead the Blue Devils to a Region 8-AAAA Championship and as a senior, he helped lead his team to a 9-4 overall record. Turman is known for his blocking and athletic ability as a big tight end, playing on both sides of the ball as well as being a member of the Blue Devil basketball team.
Coach Tommy Galt on Devon - "Devon is big tight end that gives us a different type of threat in our offense. If Devon continues to progress in his time here, he could be a big time player for the Crusaders. Devon is also a great student and we look forward to having him at North Greenville."

Bobby Foos - Tight End - 6-3, 215 - Chesnee, SC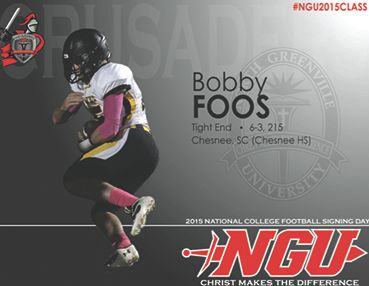 Foos was a key member of the Chesnee High School football team during his career, helping lead the Eagles to three playoff berths and a 10-2 record during his senior season. During his time in black and gold, the athletic tight end hauled in 145 receptions for 3,000 yards and 39 touchdowns. His stock rose during a junior season in which he totaled 66 receptions for 1,313 yards and 18 scores. Foos followed with a senior campaign in which he caught 33 passes for 702 yards and 12 touchdowns. He will join former Chesnee High School teammate Cameron Stepp as a Crusader.
Coach Tommy Galt on Bobby - "Bobby is a very versatile player that can play multiple positions in our offense. He is very athletic and also an outstanding punter. We can not wait to get him on campus."

Tracy Scott - Running Back - 6-0, 190 - Greenville, SC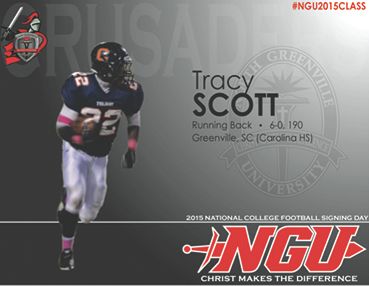 Scott joins the Crusader football family after compiling 1,863 yards and 24 touchdowns in his final two seasons at Carolina High School. As a junior, he ran for 900 yards and recorded nine touchdowns for the Trojans, following with 963 yards and 15 touchdowns, an average of 6.5 yards per carry, during his senior season. Scott joins a talented Crusader backfield in which five backs combined for 1,560 rushing yards and 18 touchdowns on the ground during the 2014 season.
Coach Rob Greene on Tracy - "Tracy is a very explosive runner with good size. He is a big play threat every time he touches the ball. Tracy has the potential to develop into a complete back for us. We are excited he will be a part of the North Greenville University football program."

Anthony Gates - Defensive Lineman - 6-1, 275 - Winder, Georgia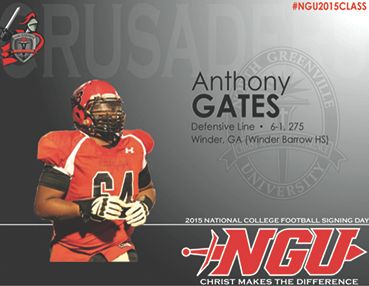 Following his senior season, Gates was selected to the Georgia 8-AAAAA All-Region Team and also led Winder-Barrow High School to the school's first Region 8-AAAAA playoff trip since 2003. He recorded 61 tackles, three sacks, and a fumble recovery in just ten games during his senior season, an average of 6.1 tackles per game. Gates also started at defensive tackle for the North Team in the GACA All Star Game, helping lead the North squad to a 14-10 victory.
Coach Trey McCray on Anthony - "Anthony is a physical player that will fit well into our defensive scheme. He has quick feet, plays with good leverage, and is a person we are excited to have a part of the program. If he continues to develop over his time at North Greenville, Anthony could turn out to be a great player for the Crusaders."

Jeremy Hart - Punter/Kicker - 5-10, 180 - Ware Shoals, SC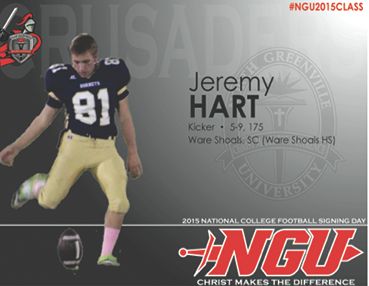 A four-year starter at Ware Shoals High School, Hart was named to the 1-A All-State team for the 2012 season and an All-State Honorable Mention honoree in 2013. He was also honored as a Lakelands FCA Player of the Week recipient during the 2014 season. Hart proved to be a versatile athlete, having great success as a field goal kicker, kickoff specialist, and punter for the Fighting Hornets. He will have a chance to make immediate impact for the Crusaders after the graduation of former kicker/punter Justin Gravely and kickoff specialist Parker Langford in the offseason.
Coach Michael Bayne on Jeremy - "After a successful career at Ware Shoals, we are looking forward to seeing Jeremy become a Crusader. His personality and work ethic will fit in great with our program. His technique and drive will make him a great player in years to come."

Whitt Warner - Offensive Lineman - 6-0, 250 - Lexington, SC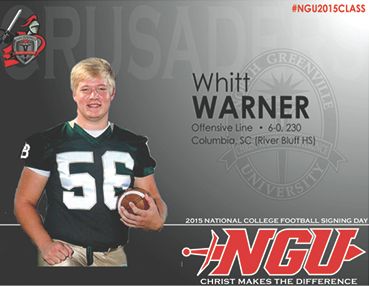 As a senior, Warner led River Bluff High School to the program's first-ever playoff berth and playoff win over top-seeded Goose Creek High School in the first round of the South Carolina High School playoffs. He helped Coach David Bennett and the Gators to an 8-5 overall record, advancing to the second round of the playoffs in the school's first year of varsity competition. Warner played in the South Carolina North-South All-Star Game as a center and was a Max Ernfinger High School All-American game participant where he was selected as the captain for the East Team.
Coach Tommy Galt on Whitt - "Whitt is an offensive lineman that comes from a great school with a great football program lead by Coach David Bennett. Whitt is a very aggressive player that knows how to play until the whistle. We are very excited to get him to North Greenville."