NGU TENNIS INKS TWO ON SIGNING DAY
Tigerville, S.C.—Tomas Kurhajec has announced the signings of two players heading to Tigerville next year to play tennis for NGU as Kylie Sandusky and Ethan Smith have signed National Letters of Intent to attend North Greenville University.
Kylie Sandusky
Kylie Sandusky, a senior from Greer High School is the daughter of Erik and Tara Sandusky. She is a six-year letterman in varsity tennis and has played as the team's #1 singles and #1 doubles since joining the team in 2009.
The team captain was an All-Region selection each of her six years with the Yellow Jackets as was named the Player-of-the-Year during her freshman campaign. The Greer senior was picked to play in the South Carolina High School League's single's tournament four times and also participated in the North-South All-Star Tennis Classic after her senior season.
Sandusky racked up an 18-2 record in singles play in 2015 paired with an 11-1 doubles record. She lost just 12 solo matches in her six years of high school tennis, compiling an impressive 54-12 record with an equally impressive 41-13 record in tandem sets. She wrapped up her senior season ranked 17th in South Carolina among all women's players.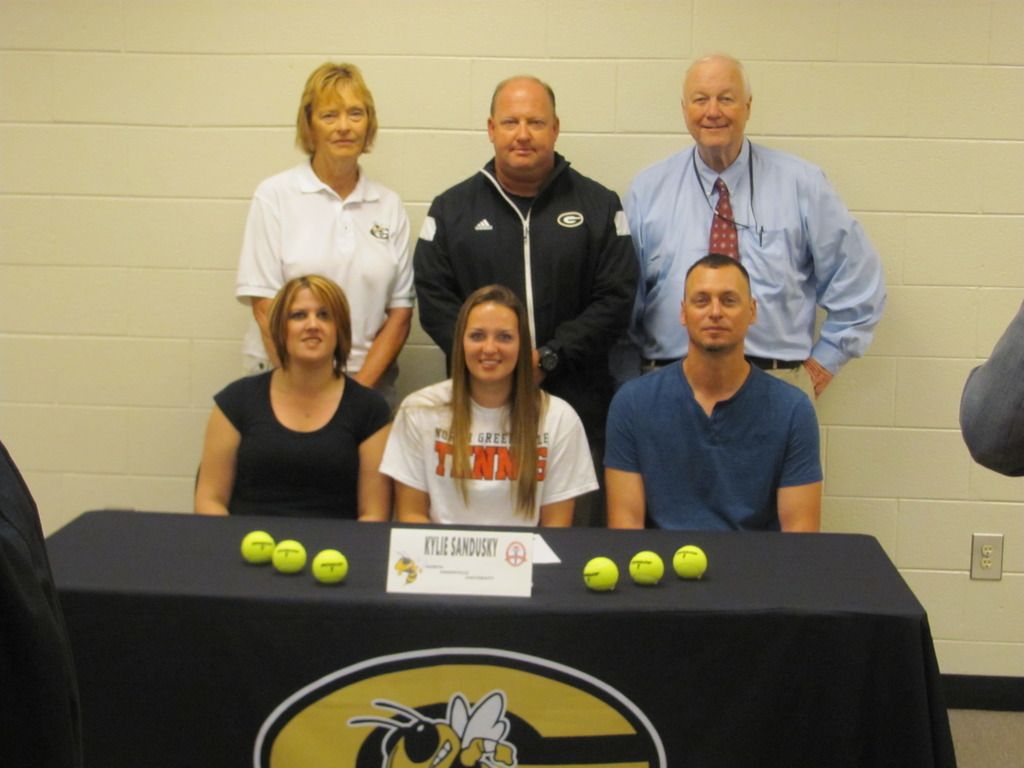 Ethan Smith
Currently a senior at Socastee High School, and member of the National Honor Society, Smith has won 65 raatches over his career and is 20-1 since the start of 2014. In that season, Socastee High won Region- Vll AAA and narrowly missed a state championship.
The recently voted team captain is undefeated thus far in the 2015 season, and has been nominated to play in the North/South High School Al) Star tennis tournament.
The 6'4, 210 senior is a dual sport athlete, taking the reigns of the Socastee High School offense in 2013, becoming one of only five quarterbacks to be ranked in the top 10 in three categories including passing yards (1247), touchdowns (10), and completions (111).
Smith committed to tennis full time after the 2013 football season and looks forward to contributing to the future success of the North Greenville Tennis Program. In addition to leading on the tennis court, smith has been involved in ministry leading a group of fourth and fifth grade boys and helping them come to know the Lord through a Sunday School class at his church.